Career Fairs
Attending a career fair is a great way to quickly connect with multiple employers.  CareerSource Pinellas unites career seekers with relevant, top employers to provide individuals with opportunities to truly better their lives.
Remember to bring plenty of copies of your most-recent resume to the event, and dress in your best professional attire. If you'd like additional help improving your resume or interviewing skills prior to the event, visit any of our centers. There, you can take a complimentary Employability Skills Workshop which is designed to set you apart from the competition and assist you in starting the career of your dreams.
Are you hiring or interested in sponsoring an upcoming Career Fair?
Please email Rebecca Kyker at rkyker@careersourcepinellas.com for more information.
Career Fair Schedule
Professional Career Fair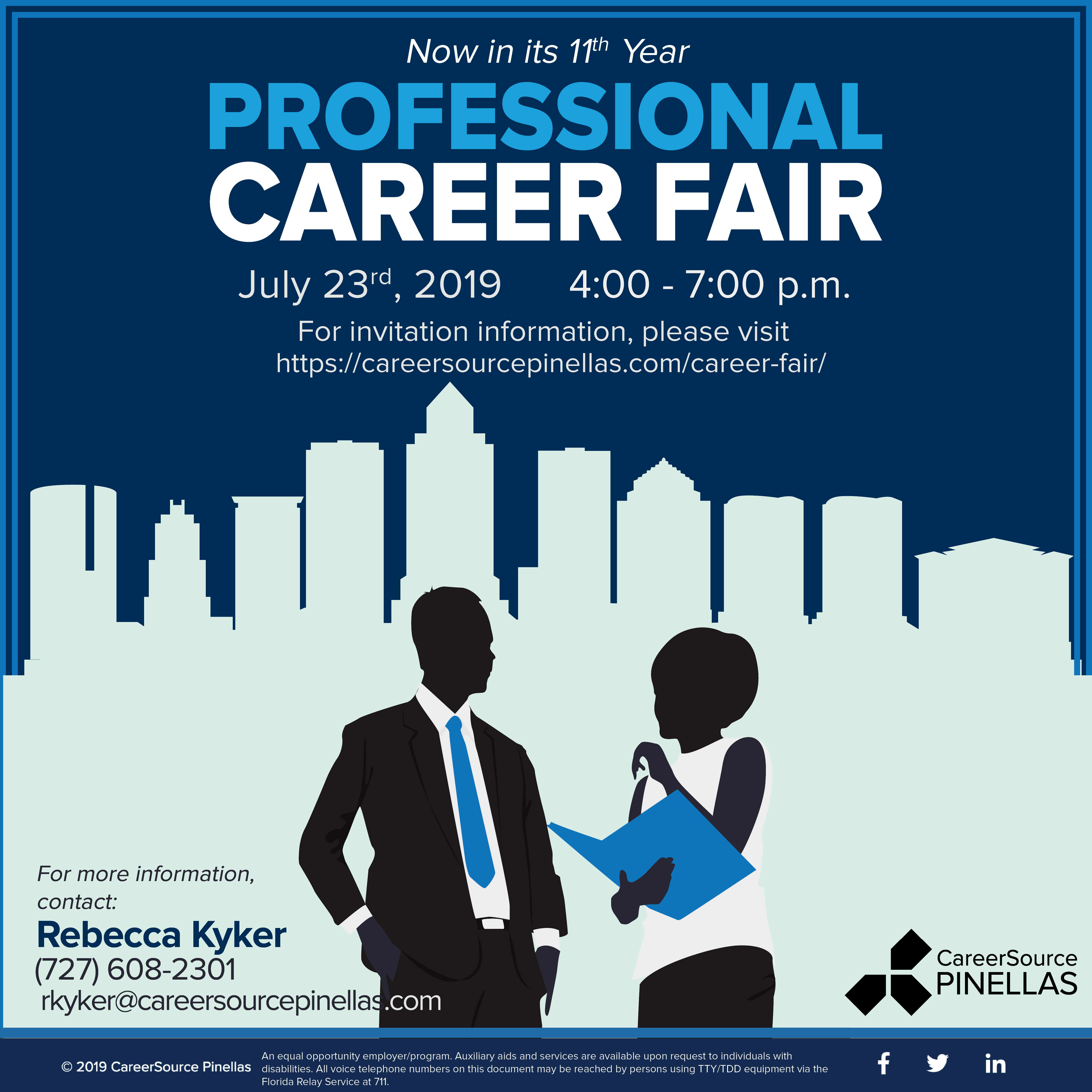 When:  Tuesday, July 23, 2019
4:00 p.m. – 7:00 p.m.
Where:   Clearwater, FL
This job fair is designed to maximize career opportunities for business professionals with multiple years of experience and/or a college degree.  Employers at this fair will be looking to fill positions beyond entry-level.  This fair is invite-only.  If you are interested in attending, please email Rebecca Kyker.
When:  Wednesday, August 14, 2019
10:00 a.m.  – 12:00 p.m.

Where:   The EpiCenter at St. Petersburg College
13805 58th Street North
Clearwater, FL 33760
Working in the hospitality industry has tons of benefits, such as opportunities to travel and flexible hours.  Plus, the service sector in Pinellas County continues to grow, and hospitality jobs are highly in-demand.  Explore career opportunities at CareerSouce Pinellas' Customer Service & Hospitality Career Fair this August.
Want to skip the line at the door and go straight to the career fair? Make sure you have an Employ Florida profile prior to the event.  Employ Florida is a job search network exclusive to Florida residents, so taking advantage of these job postings is a total must for any serious job seekers.  Profiles are free to create and enable you to check-in quickly at any CareerSource Pinellas event.
If you're interested in learning which employers will be at the fair, follow us on Facebook – the employers and a sneak-peek of the positions will be posted a week before the event.  Plus, CareerSource Pinellas will be offering a free Career Fair Best Practices workshop one week prior at the EpiCenter where attendees will have the chance to take a complimentary professional headshot, learn what employers are offering which positions, and meet other job fair attendees prior to the fair.
Veterans & General Public Career Fair
When:  Wednesday, November 13, 2019
10:00 a.m. – 11:00 a.m. – Exclusive for Veterans
11:00 a.m. – 1:00 p.m. –General Public

Where:   The EpiCenter at St. Petersburg College
13805 58th Street North
Clearwater, FL 33760
To thank the country's veterans, CareerSource Pinellas is hosting a job fair designed to increase employment opportunities for Pinellas County veterans.  Veterans receive priority assistance throughout the event. Plus, veterans will have the opportunity to meet exclusively with employers for one hour prior to the event being opened to the general public.